Web Development
Evermore Enterprises develops award-winning, dynamic, user-maintained websites and applications for both external (public Internet) and internal (private intranet) use.
Your Website: A Professional Presence Online
We start by understanding your business and, identifying the business needs your website can meet. With a detailed project plan in-hand, we build you a robust, dynamic and, professional site. After launch, we help you and your site grow, develop and thrive.
We can provide any level of support you require for maintaining your web presence. Most companies have internal staff who are capable of maintaining and updating website content. In those cases, we provide tools and training to your staff and, get out of the way. You shouldn't have to pay and wait on your web developer to make every minor change to your site. With Evermore, you don't.
Most Evermore websites use a dynamic content management system (CMS) that provides simple, straight-forward ways to edit and update content. We can build sites on top of open platforms, such as WordPress or, using our ECMS2 system to optimize your user experience.
Customers in need of more assistance can count on us. If you just want someone to call to get your site updated, we are also ready to help.
eCommerce Solutions
If you are looking to set up a full online store, sell a single product, collect conference registrations or, just take donations, we have the solutions you need. We will help you select the right solution.
We run payment card industry (PCI) compliant servers and, can offer secure payment solutions through Authorize.net, PayPal, Google Payments, Amazon Payments and more.
Custom Web-Based Business Applications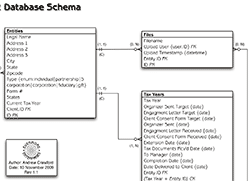 Evermore Enterprises' custom intranet and web-based business applications can streamline the flow of information in your company and, save you a fortune through automating workflow, data collection and delivery. We build systems that guide, plan and watch critical business processes, monitor job status, track employee time, deliver work products to your customers and more. We build systems that can integrate with your accounting and other systems to reduce redundant data entry and elminate error.
The systems we build automate time-consuming administrative tasks and free your staff to spend more time doing what they do best. Check out the CDB2 and Tickerl 2 client profiles for more concrete examples of the benefits to be reaped from an Evermore web-based business application.
Case Database 2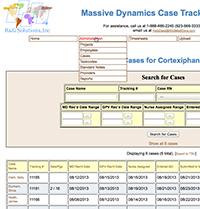 Evermore Enterprises developed Case Database 2 (CDB2) for R&G Medical Legal Solutions LLC to help them manage their work flow, stay organized, bypass geographical limitations and provide excellent and cost-effective services to their clients. CDB2 has helped R&G leave their competitors in the dust.
Tickler 2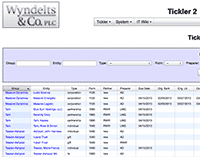 Developed by Evermore Enterprises, Tickler 2 provides the staff of Wyndelts & Co. with ubiquitous access to state-of-the-art work flow and document management tools that help them provide service with their signature excellence.
Contact us to discuss what we can build for you:
Contact Us